Ok folks this is my first time making some confessions without being in a tiny room with a priest on the other side of the curtain! It's Tuesday at The Sisterhood and that means True Confession time. It's my first time participating in this weekly thread.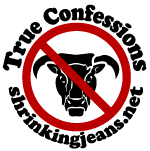 Where do I begin with my confession? Oh here's an idea, how about with the transgressions from this very evening?! Hubby and I went out after work to celebrate. I learned yesterday that some of three of my newspaper columns won a national award in the National Society of Newspaper Columnists annual contest. Granted, they won an honorable mention - not first or second or third place, but no matter to me! It was a national contest and I have been beaming with pride.
Now, back to tonight. I must get out of the thought pattern of celebration = anything I darn want off the menu and a few cocktails to wash it all down of course. I ordered a friggin bloomin' onion thing - you know the kind you get from the Outback? The kind I probably have not had in 10 years at the Outback?
This wasn't the Outback but they had that kind of appetizer on the menu AND it was on the $5 Happy Hour special menu.
I felt sluggish and puffy after.
I will go to bed saying my prayer that I do not do that again any time soon.