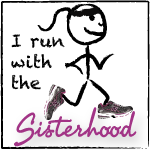 Today marks the start of Week 2 of the Couch to 5K training I'm doing over at the 'Hood. I truly enjoyed my day of rest yesterday. Didn't do the workout in the a.m. but I finally got on the treadmill around 8 p.m. after coming home from work around 7 and chilling out for a bit. I'm proud of myself for not blowing it off. And proud of myself for getting through it. Then I walked two more miles to a DVD as part of another challenge I am doing leading up to Thanksgiving. I'm rewarding myself now with a bit of computer time and a cup of tea!
The intervals tonight were 90 seconds run/ 2 min walk. I am the first to admit that I am huffing and puffing a LOT and I am super slow, but I just keep telling myself "one foot in front of another!" and remind myself that I just want to get through it. I look forward to the day when all of this becomes "second nature!"
In the meantime, I'm excited. Another day down!